| | | | |
| --- | --- | --- | --- |
| Love test | Today-Tomorrow | Personality Test | Premium |
The colors tell your emotions.
Your emotions reveal your personality.






Do the 1mn test
and discover who you are

Personality Test

FREE
| | | | |
| --- | --- | --- | --- |
| References | Theory | Who we are | Coloroscope |
OVER THAN 10 000 000 TESTS TAKEN SO FAR
Our tests are scientifically validated. Over 10 million tests have been conducted online in four languages.
Testcolor can generate over 50 million different answers, personalized according to every test.
TestColor symbolical rules are in conformance with the Freudian topics and the C.G. Jung's typology.
Our tests are scientifically validated by a team of qualified psychologists and psychoanalysts.

Why TESTCOLOR ? because emotions always tell the truth

THE SYMBOLIC TEST TRANSLATES YOUR EMOTIONS.

Our emotion-based personality tests are the result of scientific research carried out over the course of 20 years by a team of certified clinical psychologists and mathematicians, led by Thierry Leroy, clinical psychologist and psychoanalyst.
When we find ourselves in the presence of symbolic objects, these objects generate emotions that make us either feel rejected or supported.
Yet we are the fruit of our emotions, since they determine our preferences, what we are attracted to, what we choose and what we decide. They cement our personality.
Our emotion-based personality tests retrace the path of the emotion and thus expose their essence. By linking our emotions, they reveal who we really are.

THE SYMBOLIC TEST TELLS THE TRUTH ABOUT PEOPLE.

Classic personality tests based on a series of questions suffer from the social desirability bias.
The person answering the questions will always try to present itself in a favorable light, answering questions in a manner that will be viewed favorably by others.
This psychological mechanism may come into play unconsciously or it may be the result of a conscious intention to manipulate one's image in the eyes of others.
For example, if someone applies for a position as a nurse or a position as police officer, the same person will give in good faith a different answer to the same question.
Symbolic, emotion-based tests, on the other hand, look at feelings and emotions and therefore don't lie but speak profound truth.
The premium professional profile includes :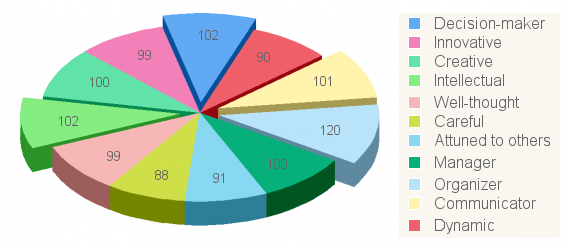 YOUR DETAILED PERSONALITY DESCRIPTION
A Comprehensive Analysis containing a 20+ page report with customized content that describes your individual personality in depth,
including a list of your strengths and limitations, how they affect your personality, and a complete list of your traits with detailed explanations.

YOUR PROFESSIONAL PROFILE
Your detailed professional profile, Including your qualities and strengths, with an emphasis on your strongest assets, but also your weaknesses, which you may be able to overcome.

YOUR PERSONALITY TYPES
in accordance with the model of C.G. Jung, recognized by the majority of recruitment agencies,
in accordance with the colorpersonalitytypes model.

YOUR WAY OF LIFE
as it arises from the essential components that make up your character, your life choices and your personal evolution.
Your personality traits, with all the advantages and challenges they entail.
Your impact on others and the way others perceive you. Your main assets in life

Our tests are scientifically validated by a team of qualified psychologists and psychoanalysts